PRINTS
FINE ART PHOTOGRAPHY PRINTS
I currently offer four types of large ready-to-hang museum-quality fine art photography prints through my website: Bamboo Wood Prints, ChromaLuxe Metal Prints, and Designer or Standard Series Acrylic Face-Mount Prints which all come ready-to-hang.
I don't currently offer custom framed prints as options on my website. Due to the thousands of different frame moldings available and the hundreds of variations and choices in custom framing, it just isn't practical. There is also the much-added risk of shipping products with glass which can easily be broken, damaging the print and ruining what should be an exciting moment when you open the package to see your new fine art print.
For those looking for custom framing, I do offer unmounted prints. These allow you to work with a local frame shop to choose the moldings and mats which both compliment the photograph and fit your individual room décor and style preferences. Prints are generally shipped rolled and I recommend that you bring the package directly to your framer for proper handling. Prints should be handled very carefully with cloth-gloved hands with extreme care to avoid creasing the print.


Bamboo Wood Prints
Your photo mounted to beautifully sanded & stained eco-friendly 3/4" thick bamboo.
Unique: Hand Sanded/Stained, Float Effect. We continue to go the extra mile. You won't find bamboo photo mounts hand sanded and stained anywhere else. You also won't find that modern floating look.
No Direct Printing: We don't print directly to the bamboo which diminishes photo clarity and color gamut. We print to photo paper and then mount the photo to the bamboo for a beautiful, gallery quality appearance.
Highly Durable & Eco Friendly: Bamboo is fast growing and one of the most sustainable wood products around. It's also incredibly durable and 4x more dimensionally stable than oak.








CHROMALUXE METAL PRINTS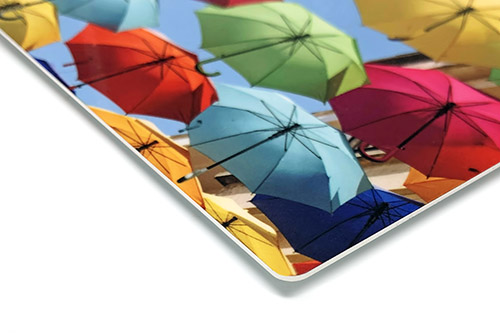 Chromaluxe metal prints provide a stunning vibrant look. Your photo is infused into the metal (called dye sublimation) using a specialty printer and transfer paper along with a heat press to produce an incredibly sleek print with rich and glossy color. All metal prints float from the wall 3/4" with an elegant aluminum subframe and French-cleat hanging system.
We use the industry leading Chromaluxe panels for superior longevity and color vibrancy along with the top dye sublimation printer and inks. Let's just say we're thrilled with the results and we think you'll be too!
The Process: Your image is first printed on a transfer paper using our Epson F6200 dye-sublimation printer. The print is then placed on to the Chromaluxe metal and placed into a heat press which causes the dyes from the transfer paper to transform into a gas. These gaseous dyes are pressed into the surface of the metal, and as the metal cools, the dyes return to their solid-state, becoming permanently infused into the aluminum substrate. Metal prints are easy to clean and are also temperature and moisture resistant.
Finish/Appearance: Glossy/vibrant in appearance. Slightly rounded corners.
Backing/Hanging: Full aluminum subframe with French-cleat hanging. All hardware provided. Floats from the wall 3/4".
Care/Cleaning: Contrary to popular belief, these aren't indestructible and precautions should be taken to make sure these last many years. Our recommendation is to avoid sustained direct sunlight whenever possible and handle with care to avoid scratching.




Acrylic Designer Series

NEW! The Acrylic Designer Series. Your acrylic print is beautifully accented with 3/8" white or black acrylic on the back providing a sleek and modern look. All edges are diamond polished by hand and your print arrives ready to hang and float from the wall 3/4".
Your photo is printed to metallic paper and then face mounted to 1/8" TruLife® acrylic. We then back it with either 3/8" thick white or black acrylic for a beautifully accented look. A full aluminum subframe and cleat hanging system provides an elegant floating and hanging option.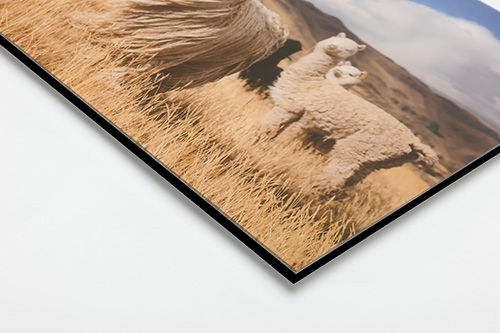 The Gold Standard for Displaying Your Photos: The frameless acrylic face mount offers an incredibly modern and brilliant display that no other presentation can match.
Incredible Vibrancy: Unlike glass where light passes through, light refracts within the acrylic creating tremendous vibrancy particularly when paired with metallic paper and overhead lighting.
TruLife® Acrylic
This innovative, anti-reflective, abrasion resistant acrylic, was developed specifically for face mount applications. It captures details with lifelike colors, incredible depth, and clarity for the highest-resolution viewing experience possible.


Acrylic Standard Series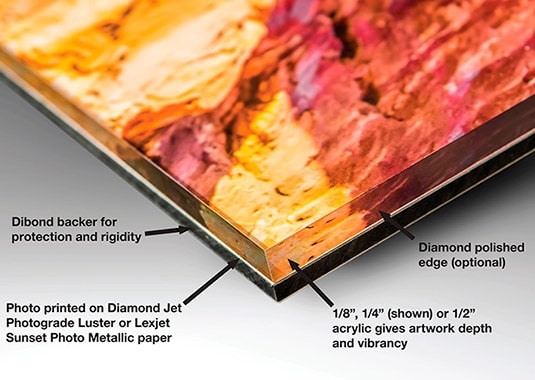 Our acrylic prints for the wall are handcrafted using the original face mounting method for superior color and vibrancy.
No Direct Printing on Acrylic: We use the original face mount method where your acrylic print is created by printing to professional grade paper and then reverse mounting the print to acrylic for optimal vibrancy, color accuracy and longevity (no fading!)
Luxurious Photo Display: The frameless acrylic face mount offers an incredibly modern and brilliant display
that no other presentation can match.
Unparalleled Vibrancy: Unlike traditional glass, where light simply passes through, the light refracts within the acrylic creating tremendous vibrancy particularly when paired with metallic paper and overhead lighting.
¼-inch Acrylic: The ¼-inch acrylic is edge polished to provide a beautiful, see-through edge.
Ready-to-hang prints are priced higher than loose prints. However, when you factor in the time and expense of working directly with a local frame shop the difference in price is negligible if not less than doing it on your own. The other benefit to purchasing a ready-to-hang print is you can be assured that the print won't get damaged by a framer that doesn't know how to handle large artwork properly. Extreme care must be taken however to prevent larger prints from creasing or getting damaged during the framing process. Consider my Acrylic Designer or Standard Series prints or the ChromaLuxe metal prints if you would rather not deal with these risks. Leave the stress to me and just enjoy your artwork. My print partners are carefully vetted and I stand by the quality of art production that you would be receiving.
WHICH PRINT SIZE SHOULD I BUY?
The answer depends on where you plan to hang the print and how it enhances the experience of the room. Here is a sizing chart for comparison between my smallest and largest fine art photography prints for sale. Smaller prints are more subtle whereas large prints really draw the viewer into the scene and make a statement. If you know exactly where you want to hang a print then you can measure the dimensions of the surrounding space and send me the photo so I can design a mockup for you. Please contact me at any time and we can brainstorm ideas over the phone or by email.
Fine Art Photography Print Sizing Guide
HOW TO BUY FINE ART PRINTS


All photography on my website is available for sale in different sizes and print styles. My shopping cart accepts payment via credit card. Shipping is free within the United States. If you have any questions about my artwork or would like to consult with me on art selection then feel free to reach out via my contact form. We can discuss your needs at any time either via phone or email depending on your preference. You can also send me a photo of the space where you would like to hang my artwork then I can mock-up my artwork into your space so you can see what my prints might look like in your home or office.
TURNAROUND TIME
Most ready-to-hang prints usually ship within 2-3 weeks. Shipping times can increase significantly around the Christmas holiday period as shippers get overwhelmed. All purchases include free shipping within the United States. Please contact me directly for any sales outside of the United States.
QUANTITY DISCOUNTS
Quantity discounts are available to art collectors, consultants and interior designers which can lead to substantial savings on your print order. Decorate a home or office for far less than it would cost on an individual per print basis. Please inquire for more info.
WARRANTY POLICY
All sales are final, however if the fine art print is damaged during shipping then please contact me right away so I can resolve the issue for you. All prints must be inspected for damage within 48 hours.
CUSTOM ART SERVICES
If you have a specific need that differs from the print and framing options currently listed on my site then please contact me at any time and let's discuss your needs. Whether its canvas gallery wraps, framed metal prints, hotel and office wall murals or float mount framing I can produce just about anything available in the market. Larger prints of 90" or more please contact me for availability.